JURISDICTION INFORMATION
All of Lehigh and Carbon Counties, Part of Northampton, Bucks, and Schuylkill Counties
Thank you for your interest in the Electrical Workers. Please complete the form below to get started.
"*" indicates required fields
ACCEPTING APPLICATIONS
Application Acceptance Information: You will be contacted for an interview. After that you will be contacted by the JATC for job assignment.
Program Length: 5 years
When you accept applications: Open Year Round
Do you accept online applications? No
For our program, the minimum entry requirements are as follows:
Be a minimum of 17 years of age*.
Be at least a high school graduate, or have a GED, or have a two-year Associate Degree or higher.
Be able to show evidence of successful completion of: one full year of high school Algebra with a passing grade, or one post high school Algebra course with a passing grade.
Possess a valid driver's license.
Qualify for an interview with the JATC Committee by successfully passing the National Joint Apprenticeship and Training Committee aptitude test. This test was developed and is validated by the American Institute for Research.
Prior to being indentured, applicants selected from the pool of interviewed applicants may be required to provide results of a physical examination and a drug test as decided by the JATC.
All applications must be in person.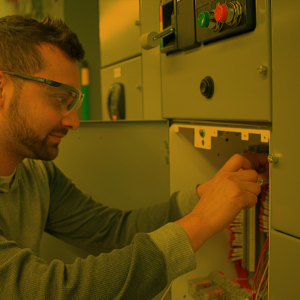 Inside Wireman
An Inside Wireman's main responsibility is to connect the outside power source and distribute it throughout a job. This includes installing conduit, running wire, installing outlets and fixtures.