Plumbers and Pipefitters
Men and women who want to become a plumber or pipefitter perform a wide range of work in what is known as the piping trades.
Work Conditions and Skills Needed
Depending on the job, both plumbers and pipefitters work indoors and outdoors. 
The work of a plumber may be done in tight, damp and cramped places. A plumber needs to be comfortable working in these conditions frequently. Pipefitters also work in similar conditions, meaning that they should be comfortable working in these conditions too.
To work in these fields, plumbers and pipefitters need to be able to stand, walk, kneel and bend for long periods of time.
Plumbers and pipefitters start their career as apprentices, honing their skills. During this apprenticeship, apprentices learn on-the-job from industry professionals and in the classroom from trained and experienced instructors. Apprentices earn livable wages and are eligible to receive benefits such as healthcare and a pension.
Thank you for your interest in the Plumbers and Pipefitters. Please complete the form below to get started.
"*" indicates required fields
The work is split into two categories: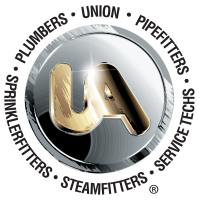 UNION INFORMATION
The United Association Union of Journeymen and Apprentices of the Plumbing and Pipefitting Industry (UA) is an international organization representing plumbers, pipefitters, sprinkler fitters, service technicians and welders throughout the United States, Canada, Ireland and Australia. The core values of the UA include having the highest standards in training and safety regulations, providing fair wages and benefits and building relationships with industry partners.

CONTRACTOR INFORMATION
The Mechanical Contractors Association of America (MCAA) serves the unique needs of approximately 2,600 firms involved in heating, air conditioning, refrigeration, plumbing, piping, and mechanical service.
We do this by providing our members with high-quality educational materials and programs to help them attain the highest level of managerial and technical expertise. MCAA includes the Mechanical Service Contractors of America, the Plumbing Contractors of America, the Manufacturer/Supplier Council, the Mechanical Contracting Education and Research Foundation and the National Certified Pipe Welding Bureau.
PACA Trades
The Pennsylvania Apprentice Coordinators Association (PACA) was created to promote and improve registered apprenticeship programs throughout the state of Pennsylvania for the construction industry. Click through the below listing of the construction trades and learn more about the Registered Apprenticeship Programs they offer throughout the state of Pennsylvania.