Ironworkers
Men and women who wish to become ironworkers have a wide variety of careers they can pursue including structural, reinforcing, ornamental, rigging and machinery moving and welding and burning.
Ironworkers work mostly outdoors, although some work can be performed indoors.
An ironworker needs to have a great sense of balance and not be afraid of heights. On many jobs, iron workers are erecting steel beams, welding or connecting rebar or curtain wall systems high above the ground.
Ironworkers begin their careers as apprentices, learning safety standards and basic skills. During this apprenticeship, students earn while they learn through on-the-job training and receive classroom instruction from trained and experienced professionals. After the apprenticeship is completed, ironworkers become journeymen and earn a pay raise.
Thank you for your interest in the Iron Workers. Please complete the form below to get started.
"*" indicates required fields
Work of the various trades is: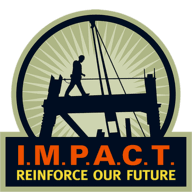 CONTRACTOR INFORMATION
IMPACT is a partnership designed to provide a forum for Ironworkers and contractors to address mutual concerns and encourage reasonable balanced solutions. The IMPACT Regional Advisory Boards extend this approach, creating a national network, which promotes discussion of issues affecting the industry as a whole and enables the creation of effective strategies for resolving concerns to create opportunities for the ironworking industry. Our primary mission is to expand job opportunities through progressive and innovative cooperative programs.
PACA Trades
The Pennsylvania Apprentice Coordinators Association (PACA) was created to promote and improve registered apprenticeship programs throughout the state of Pennsylvania for the construction industry. Click through the below listing of the construction trades and learn more about the Registered Apprenticeship Programs they offer throughout the state of Pennsylvania.