Carpenters and Allied Trades
Men and women who are looking to become a carpenter or work in one of their allied trades perform a variety of tasks, which can range from foundation to finish.
Work Conditions and Skills Needed
Depending on the job, a carpenter can work indoors or outdoors. Carpenters work year round, from snowy and cold conditions to extreme heat. Millworkers, cabinet makers and floor coverers work almost entirely indoors, as their work is done at the end of a job. Pile drivers work outdoors, as they prepare the jobsite for construction.
All Carpenters and Allied Trades workers need to have precision since most of what they do requires accurate and precise cuts or calculations.
These workers must be able to stand, crouch, climb and bend for long periods of time. They should also not be afraid of working from heights.
Apprenticeship
Carpenters and allied trades workers start their career as apprentices, learning basic industry skills. During this apprenticeship, students earn while they learn from journeyman carpenters or allied trades on-the-job. There is also classroom instruction to provide supplemental education in order to ensure you are advancing through the program at the correct pace. These classroom instructors are highly trained and experienced industry professionals. 
Work of the various trades is:
Thank you for your interest in the Carpenters and Allied Trades. Please complete the form below to get started.
"*" indicates required fields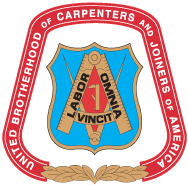 United Brotherhood of Carpenter and Joiners of America
The United Brotherhood of Carpenter and Joiners of America (UBC) is a national organization, who represents carpenters, floor coverers, interior system workers, lathers, millworkers and cabinetmakers, millwrights and pile drivers. The UBC fights for improved wages, benefits, working conditions and apprenticeship. 
PACA Trades
The Pennsylvania Apprentice Coordinators Association (PACA) was created to promote and improve registered apprenticeship programs throughout the state of Pennsylvania for the construction industry. Click through the below listing of the construction trades and learn more about the Registered Apprenticeship Programs they offer throughout the state of Pennsylvania.