Operating engineers take on a multitude of tasks, from inspecting heavy equipment to operating earth movers.
Operating engineers are responsible for cleaning and maintaining the heavy machinery that they operate. They also drive and maneuver equipment, working as a team using visual and radio communications. 
An operating engineer crew is typically responsible for moving dirt and other material around on a jobsite. They may also operate cranes that move and swing materials into place. 
Placing the foundations of our building and paving our roads, most of the work done by operating engineers is crucial to our infrastructure.
Since they are constantly working on large, noisy machines, operating engineers always need to be alert and focused to ensure a safe jobsite.
Work Conditions and Skills Needed
An operating engineer can expect to work in every weather condition. The vast majority of their work is done outdoors, but may be under cover when operating a piece of heavy equipment.
The hours an operating engineer works may be considered irregular. Many road projects and infrastructure projects are on tight deadlines, with multiple crews working around the clock.
Operating engineers need to be alert so they understand the visual communication being directed at them.
Operating engineers should be physically fit as they may have to lift up to 50 pounds at a time. They also can not be afraid of heights as they may be working from cranes or servicing pulleys. 
Vocational training and mechanics knowledge can set candidates apart from others, but are not required.
Apprenticeship
Those who would like to be operating engineers are encouraged to complete a Registered Apprenticeship Program with the International Union of Operating Engineers. This program typically takes three to four years to complete. During the apprenticeship program, apprentices will earn while they learn through on-the-job training from journeyman operating engineers and in the classroom from a trained and experienced instructor. They will be earning a living wage as well as having eligibility to receive benefits such as healthcare and a pension.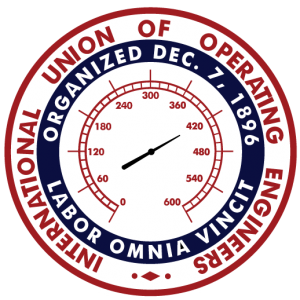 UNION INFORMATION
The International Union of Operating Engineers (IUOE) is a trade union, which primarily represents operating engineers, who work as heavy equipment operators, mechanics, surveyors and stationary engineers working in operations and maintenance in building and industrial complexes. 
From ensuring protections of  prevailing wages on public projects, to alleviating healthcare costs through coalition building, to improving their contractors' competitiveness, IUOE has and will continue to be tirelessly dedicated to the common interests of its members.
PACA Trades
The Pennsylvania Apprentice Coordinators Association (PACA) was created to promote and improve registered apprenticeship programs throughout the state of Pennsylvania for the construction industry. Click through the below listing of the construction trades and learn more about the Registered Apprenticeship Programs they offer throughout the state of Pennsylvania.