Elevator Constructors
Elevator Constructor
Elevator constructors are responsible for assembling elevator cars, escalators and lifts, connect electrical wiring to control panels and test newly installed equipment to ensure safety. They also perform maintenance on these systems, which can be preventative or reactive. Since this equipment has a lot of moving parts, elevator constructors regularly oil and grease these parts.
Elevator constructors work in a variety of environments – from residential, to commercial and industrial buildings.
Work Conditions and Skills Needed
The work of an elevator constructor is almost always performed indoors, except in rare occasions. Often times, elevator constructors work at great heights or in cramped spaces such as machine rooms and crawl spaces.
Elevator constructors must be physically fit, sometimes needing to lift up to 200 pounds. They should also be able to work in tight, cramped places. An elevator constructor should be prepared to walk, bend, crouch, kneel, climb and stand for long periods of time.
Those entering the trade should be able to learn how to read blueprints and  technical literature and use math to solve problems.
Apprenticeship
Men and women who want to become elevator constructors should apply to a Registered Apprenticeship Program through the National Elevator Industry Educational Program (NEIEP), which is the training entity for the International Union of Elevator Constructors.
Elevator constructor apprentices earn a livable wage and great benefits while they learn on-the-job from experienced journeymen. They also receive mandatory classroom instruction from trained and experienced instructors.
Thank you for your interest in the Elevator Constructors. Please complete the form below to get started.
"*" indicates required fields
UNION INFORMATION
The International Union of Elevator Constructors (IUEC) is an international organization, who represents workers who construct, maintain and repair elevator systems. The IUEC was established to protect workers through collective bargaining, providing a better wage, benefits and improved work conditions.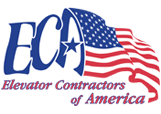 CONTRACTOR INFORMATION
The Elevator Contractors of America (ECA) values their members and the service they provide to the public. They work to foster and promote the elevator industry by obtaining uniformity, harmony and certainty in the relationships between employers and employees
As a nonprofit organization dedicated to the good of the signatory independent elevator industry, ECA is accountable to its members, transparent in its operations, responsible for its stewardship of resources and committed to excellence.
PACA Trades
The Pennsylvania Apprentice Coordinators Association (PACA) was created to promote and improve registered apprenticeship programs throughout the state of Pennsylvania for the construction industry. Click through the below listing of the construction trades and learn more about the Registered Apprenticeship Programs they offer throughout the state of Pennsylvania.