It is no secret that Unions are more diverse and inclusive than their non-union counterparts.  As stated in a 2018 study by the Keystone Research Center, there is 9 times the number of females and minorities in union construction apprenticeship programs versus non-union ones.  There are more than 6 veterans in union programs for every 1 in a non-union program.  Completion rates and wages are far higher as well.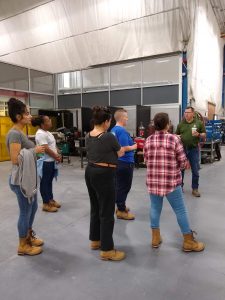 Unions also have an added benefit of equity through collectively bargained wages and benefits.  This ensures females always get paid the same as males in their classification.  In addition, Union Programs have active Affirmative Action Outreach Programs that are approved and audited by the PA Department of Labor to promote diversity and inclusion.  As demonstrated through participation in the WINC (Women in Non-Traditional Careers) Pre-Apprenticeship program in Philadelphia, Union Tradeswomen lead the way as instructors, mentors, and peers.  They are promoting opportunities in high-quality union apprenticeship programs that lead the way to family-sustaining wages, honorable professional careers, and retirement with dignity.
The article below shares the story of this program and some of the women participants.  https://www.inquirer.com/real-estate/women-recruitment-construction-trade-unions-apprentices-20210726.html
We are proud of the work they are accomplishing together and look forward to the expanded female representation in the trades that will surely come from these efforts.  While there is still a lot of work to do, PACA is happy to be a partner and resource on this mission.